Top 12 Flat Irons (Plus One Awful Hair Straightener)
Ah, flat irons seem to be my best friend and I almost have an obsessive relationship with my flat iron. Nothing makes me happier than having sleek, shiny straight hair, really. To me, straight hair can even ward off the evil eye *wink* Flat irons are important because they make or break your hair. Plus, they are not exactly cheap. Therefore, flat irons are so much more personal. I urge you to get a really good flat iron as it keeps your hair healthy and beautiful at the same time. Here are the top 12 flat irons that we've come to love unanimously. And, one particular hair straightener that has gone straight to the trash. Is your flat iron in the top 12 list?
See the straighteners that topped the list, and the one 50 readers threw in the trash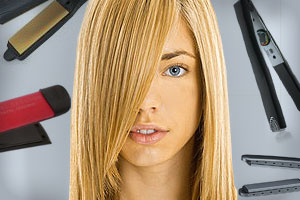 We think you should embrace your curls, but sometimes a girl's got to go sleek. We don't blame you but we do insist you use a good flat iron. A quality (but not necessarily expensive) straightener works quickly, damages hair less and gives strands a smooth, shiny finish. Bad flat irons? Well, they leave you a frizzy, damaged mess. Check out the irons TotalBeauty.com readers love (er, and one they hated).
♥ Your Glam Diva Revealing Fabulous Products and Beauty Tips ♥
Labels: Flat Irons

|
More Beauty Reads >>