Does Your Makeup Need a New Year Makeover?
Tonight marks the last day of the year 2008. In other words, it means dressing up and looking fabulous to usher in the new year! Here I am, rummaging through my tons and tons of makeup stash, trying to find the right colors for the party tonight. Of course, there are tubes and tubes of half used lip glosses and another big pile of mascaras. Really, it looks like I'm hording my makeup since 2003! Are you also facing the same predicament as myself? Chances are, your makeup really needs an overhaul. Take the quiz and find out whether does your makeup need a new year makeover! Mine, shamefully I have to admit, needs an intervention right now!!
It may be time to give your product stash the update it needs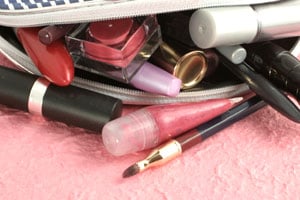 Is your cosmetics bag overflowing with dried-out mascaras, cracked eye shadows and a tube of lipstick from 2002? If so, it may be in need of an overhaul. Take this quiz to find out how much TLC it needs.
Labels: Makeup Tips

|
More Beauty Reads >>