Best Eyeliners Under $10
We all love our eyeliners, for that cat eye look ala Angelina Jolie's. Be it liquid eyeliners or pencil eyeliners, some of them could be pricey. If you're looking for better steals, you're gonna be really happy. I have a list of drugstore brand eyeliners under $10 (yes, only under $10) which perform just as well as those prestige brands. Woohoo. Our readers have raving reviews for this brand and I know I should share this good news with all of you out there. You'll definitely love them. Check out these A-lister eyeliners:
If MAC, Clinique and Lancome are too pricey, you'll be glad you "settled" for these drugstore gems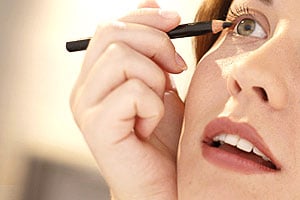 TotalBeauty.com members share convincing reviews that yes, you can get a reliable eyeliner for less. See which brand won the most praise.
No. 18: CoverGirl Outlast Smoothwear All-Day Eyeliner, $6.99
TotalBeauty.com average member rating: 8.2*

Why it's great: "This is my No. 1 favorite eyeliner. It's not too dark but it's dark enough to make my eyes look sexy. [Espresso is] a rich brown [that's] good for fair-skinned girls. It stays on all day so you don't have to worry."
-- loveb4ever320, TotalBeauty.com member
TotalBeauty.com average member rating: 8.3*

Why it's great: "First the price: dirt cheap, relatively speaking. I like the super-slim application brush; it gives me more control, and I like the consistency, which also makes application easier. After MUCH practice, I've gotten pretty adept at applying this."
-- persimmon, TotalBeauty.com member
No. 16: Almay Intense I-Color Play Up Liquid Eyeliner, $7.49
TotalBeauty.com average member rating: 8.5*

Why it's great: "I've tried the amethyst and the topaz. Both are easy and apply a beautifully precise line if you keep a few simple steps in mind: Line in short strokes, and wait a minute or so before blending or applying mascara. [It's] a nice addition to an eye wardrobe!"
-- alykitt, TotalBeauty.com member
Labels: Eyeliner

|
More Beauty Reads >>